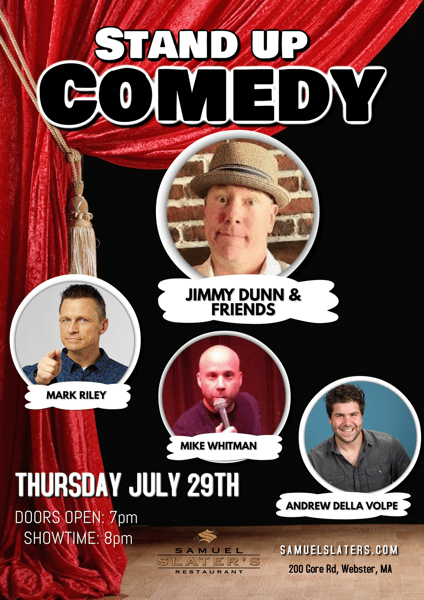 Jimmy Dunn & Friends Comedy Night
A night of comedy with Jimmy Dunn and Friends
Featuring Jimmy Dunn, Mark Riley, Andrew Della Volpe, and Mike Whiteman
Doors Open: 7:00 PM / Show: 8:00 PM

Jimmy Dunn is an actor and stand-up comedian from Boston, who recently co-starred on the CBS comedy "The McCarthys" as Sean McCarthy. He got his start in the comedy world telling jokes at a bar in Gloucester, Massachusetts, where he was paid in beer and fried clams.
Since then, Jimmy has gone on to perform at some of the comedy industry's most prestigious events, including Denis Leary's Comics Come Home, Montreal's International Just For Laughs Comedy Festival, and the Late Show with David Letterman.

Mark Riley was born and raised in Boston (yes, he can sort of pronounce his "r's") and is one of the most-booked comedians in New England. His high energy and unique perspective on everyday situations combined with his sharp observational humor keeps audiences in stitches. His material is always changing so you'll never see the same show twice. He connects with audiences in a unique way and is fearless to hecklers! 

Andrew Della Volpe is a standup comedian from Boston. Since graduating from Colby College in 2017, Andrew has performed on a nearly nightly basis throughout New England and Boston. During the pandemic, he began performing small and socially distant driveway comedy shows. Spending the summer performing in backyards all over Massachusetts, New Hampshire and New York, Andrew was able to play more than 50 shows and was featured on CBS Boston and Mix 104.1's Karson and Kennedy radio show.

Mike Whitman, chosen by The Boston Globe as one of the few top rising comedians to watch in 2014. His innovative material and style made him a semi-finalist of the Boston Comedy Festival multiple times. He is one of the nation's most versatile and entertaining comics working today.
Samuel Slater's Restaurant will be offering a limited menu during the show!
Get Tickets Here